Taking on the Track at Seven Years Old
A local homeschooler's success as cross-provincial motorcycling champion
Making the successful transition from training wheels to a two wheeler bicycle is a big milestone for many kids. For seven-year-old motorcyclist Lincoln, a typical two-wheel bike didn't quite cut it. Since the start of 2020, the local homeschooler has competed in 11 motorcycle races and won the provincial championships in both British Columbia and Alberta for his age category. Motorcycle racing is steadily growing into a fundamental part of his daily life. 
 "Homeschooling creates a lot of space for racing because I'm not in school for five or six hours a day," Lincoln says. "I wake up, have breakfast, do a little bit of school, maybe work out a little, and then I ride."
As a former BMX racer, he was interested in trying both go-karting and motorcycling to satisfy his need for speed on the track. When he finally got a chance to get on a motorbike, he fell quickly in love with it.
"We went to the track one day to try go-karting and motorcycle racing, and I liked motorcycle racing way better," Lincoln says. "Now I feel like I know everybody at the track."
Ben, Lincoln's dad, says he practices almost daily. The quiet streets in Langdon allow them to practice on the road without worrying about bothering their neighbours or dodging any vehicles. They also take trips to abandoned parking lots where they set up pylons for training and drills. 
"We find remote areas where people aren't there," Ben says. "We do everything in a very controlled setting, so we're not just gallivanting around. He gets on a track a few times a month, but otherwise, he practices almost daily from home."
The family originally started homeschooling to give Lincoln a more challenging learning environment, since they found the grade one curriculum wasn't bringing him up to his full academic potential. Since then, homeschooling has become the means by which the family can keep Lincoln on top of his studies while they travel the country for his motorcycling pursuits.
 "It's created a lot of flexibility," Ben says. "Especially since we have quite a plan for next year. We're going to be on the road everywhere from BC to Ontario, so this lets him just do school along the way."
Lincoln also enjoys tobogganing, snowboarding, cycling, reading, and playing video games. He lives a very active lifestyle and, as a motivated and self-directed learner, he says he even enjoys school for the most part.
 Lincoln's five-year-old sister Evelyn added that, while she does not prefer motorcycling, she loves to sing and dance. The two siblings live with their parents, Ben and Lindsay, and their two dogs, Ellie Mae and Parker, in Langdon, Alberta, but they are looking forward to travelling across Canada next year as Lincoln sets out to participate in races all across the country.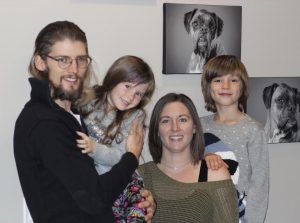 Written by Micah Jansen